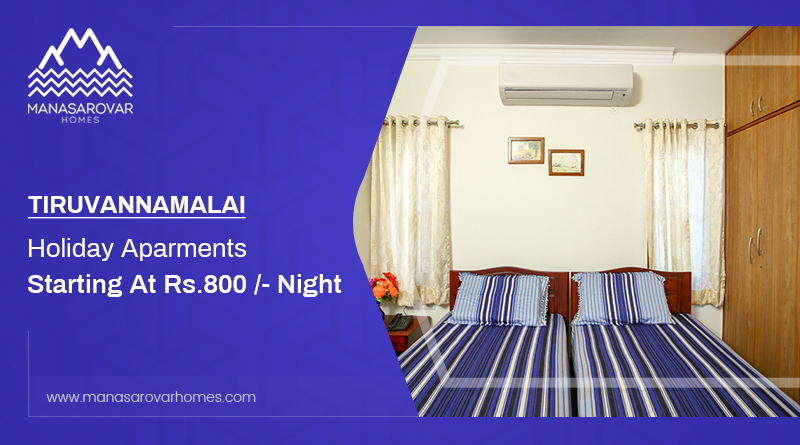 Are you looking to go on a Girivalam?
You want to make beautiful, exciting walking tour on the Girivalam road or in the Tiruvannamalai?
You are looking for the proximity of the city of tiruvannamalai, but still want to enjoy the rural tranquility?
Are you looking for a central hub for excursions to the Sathanur dam, to Gingee fort, Ramana Ashram or Virupaksha cave or to the Mamara guhai?
With our serviced apartments you have made exactly the right choice. Located very close to the annamalaiyar temple, Manasarovar Homes consist of 8 cozy and modern apartments that have been created here in an old, elaborately renovated house. The special charm of the apartments, among other things are the successful combination of old beams and timber framing in the apartments and the modern interior.
All apartments are equipped with a fully furnished kitchenette, a generous light-filled bay window invites you to a gourmet breakfast that simply makes you want to spend a wonderful day.
The feel-good character of the apartment is rounded off by a flat-screen TV and free Wi-Fi. If you do not feel like cooking yourself, you will find a good and balanced menu in the neighboring Hotel & Restaurant. Of course, you can also book breakfast for yourself through online. The offer of the apartments is complemented by an event and conference room on the former hall of the house. This is wonderful for meetings or small family celebrations for up to 20 people.
BOOKING AND PRICES
We appreciate your interest in our serviced apartments. Feel free to make reservations by phone or e-mail. Your request will be sent automatically to our Manager.
All prices listed here include: Bed linen, towels, Wi-Fi, utilities for electricity, water, heating, etc., as well as the final cleaning.